Brâncuşi: The Creator of Eternal Essence
by Valery Oisteanu
Review of the Exhibition
Constantin Brâncuşi: The Essence of Things
Solomon R. Guggenheim Museum
(Through September 19, 2004)
Constantin Brancusi (1876-1957), the pivotal artist of the 20th Century, was born in the foothills of the Romanian Carpathian Mountains. At 13, he moved to Craiova (a regional capital), where he worked at a grocery store. When he was 18, his employer, impressed by his talent for wood carving, raised the money to enroll him in the Craiova School of Crafts, from which he graduated with honors in 1898. His father owned a piece of land that he left to his son in his will, the sale of which helped finance Brancusi's art studies in Bucharest. A fable about Brancusi that he crossed Europe on foot following the Orient Express train tracks is most likely self-created, but he did travel for two month until he reached Paris via Budapest, Vienna, Munich, and Basel.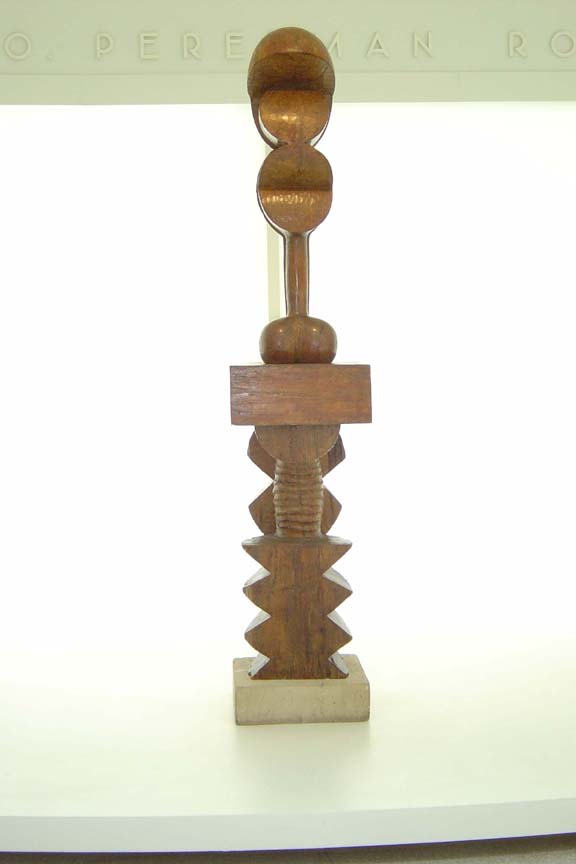 Adam and Eve, 1916 - 1921
photo by Valery Oisteanu
Once established in Paris at his studio, 16 place Dauphine, he received a Romanian scholarship for the Ecole des Beaux-Arts at the workshop of Antonin Mercie (1905-07). Soon he became friends with his Romanian neighbor Otilia Cosmutza and she secured him a meeting with Rodin who accepted him as an assistant in his studio. Brancusi worked with him only two month and decided" that in the shadow of a great tree nothing can really grow" and quit.
He turned away from classical figurative realism and instead mastered a minimal sculptural representation of essential elements, his own original symbols of Creation: Prometheus (1910), The Sorceress (1916) that rests on top of The Night Dog (1916), The beginning of the World (1920), Adam and Eve (1921), and his soaring Birds (1912-1930), and Fish (1930). "I don't sculpt birds, but flights," said Brancusi.
Rather than create a clay model and send the work out to a foundry to enlarge it and produce it, Brancusi was the first modern sculptor to carve the works entirely himself and engage directly with the final material. Given Brancusi's craft sensibility and self-reliance it seemed natural that he would have carved his blocks of marble himself, and carved wood saw in hand.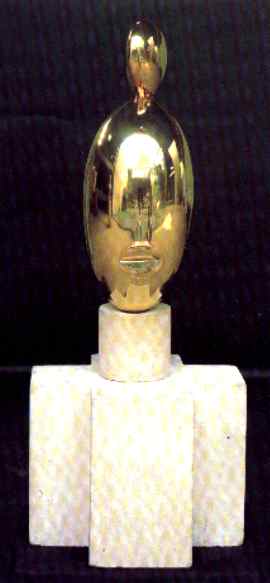 La negresse blonde, 1926
Romanian folk art, the primitive art of Africa and the art of the Cycladic islands (Greece) influenced Brancusi's sculptures. He simplified shapes to the point of minimal abstraction, using the striations of the marble or wood as complementary, aesthetic elements. His works of marble, limestone, bronze and wood were examples of an individual expression of great purity and balance and established him as a leading avant-garde artist. At the end of the 1910s he would place groups of sculptures in close spatial relationships, creating within his studio sculptural ensembles, installations, that he called "mobile groups," thus indicating the importance of the empty space between them and their rhythm.
Brancusi's most famous work, certainly his largest, is his ensemble of monumental sculptures in Targu Jiu (1937-38) for the Romanian heroes who died in the First World War. Here, the artist encrypted sculpturally the memory of the fallen heroes. The final version of his Endless Column, thirty meters high of repeated rhomboids stands majestic against the sky. Many view it as an unbroken chain of connection, a ladder to the heavens. From the ethnological point of view, the Targu Jiu monuments are the cosmical representation of the human life, started at birth, symbolized by the Table of Silence, and closed with death, symbolized by the Endless Column (a stylization of the funeral poles from the south-east of Romania). The distance between them, which represent the time given to a human life, is interrupted by the Gate of the Kiss, the symbol of marriage and of the start of a new vital cycle.
The Romanian émigré in Paris was dazzling visitors with his folk tales and his seer-like appearance (beard, white garments and wooden clogs, hat floured with holy white dust) with pronouncements to match, "The good lord is dead that is why the world is adrift," "I give you pure joy." The words went together with ethnic dinners of delights such as polenta with sausage and wine. A close friend of Picabia, Modigliani, Satie and Duchamp, Brancusi was not really a peasant, rather an "avant-garde prophet" in peasant's clothes.
When in 1926 U. S. Customs slapped a 40% tax on his Bird in Space sculpture claiming it was not an artwork but a decorative stone, he paid the custom tax and filed a lawsuit against the U. S. government and won and in the process created a new code for examining contemporary and abstract art with the help of Edward J. Streichen (a painter and photographer), Forbes Watson (Editor of The Arts magazine), William Fox (Director of the Brooklyn Museum of Art) and Henry MacBride (art critic for The Sun) and placed himself as an example of modernity by way of a court ruling.
The thematic organization of this exhibition The Essence of Things highlights specific recurring motifs as in the series The Kiss, The Torso and The Birds. Each series shows a gradual process of reducing the form of the subject into abstraction.
Bird in space, 1932 - 1940
One of the series called Sleeping Muse recently became a "quartet" from a "trio" with the discovery of a new sculpture called Sleeping Muse (III or IV), authenticated by Dr. Friedrich Teja Bach who has written the catalogue raisonné of the artist (1988). Scholars originally believed that the master had produced only three carved marble heads of the same subject, Sleeping Muse I (1909-1910) and Sleeping Muse II and III (executed in1917and1918). All four are abstract depictions of one of his friends Baroness Renée Frachon. Although the lender of Sleeping Muse III- IV remains anonymous Ms. Giménez says the artist called this newly discovered sculpture "unfinished" and, in contrast to the rest of them, the closed eyelid's line is missing. After careful study, art historians concluded that the sculpture might also have been made in the 1917-1918 period. Regardless it seems particularly beautiful and finished.
Today, after half a century has passed since Brancusi's death, few doubt that his art was the beginning of surrealism and of a new age for sculpture. Compared to his famous contemporaries, like Picasso or Modigliani who were subjects of great public polemic before they were fully recognized, Brancusi was not a subject of the same level of critical debate. His work had enjoyed the support of a small circle of admirers and was quietly sold to major collectors and museums by Marcel Duchamp who acted as his art representative.
His view included "differentiating the essential from the ephemeral" distilled from Plato and from Lao-Tzu as well as the 11th-century Tibetan monk Milarepa. On the one hand, he was a "saint-like" idealist, an ascetic. He had turned his studio into a kind of temple, and all who visited it felt the deeply spiritual atmosphere that the artworks lent to the space. On the other hand, he was known in bohemian circle as a pleasure-seeker, throwing lively parties at which he served as host, cook, and entertainer. He appreciated cigarettes, good wine, and the company of women, overindulging in all three. As Brancusi gained wealth, he began to drink to excess and once had to be treated for nicotine poisoning. Though he never married, he carried on a number of affairs and had an illegitimate child, whom, in a gesture uncharacteristic of a "saint," he never acknowledged.
Brancusi's sculpture is linked to a mythical past and a distant cultural memory of the Romanian folkloric tradition. Materially and spiritually Brancusi knew how to combine the fragility of the memorable with the living tension of the contemporary. Mircea Eliade said, "Brancusi appears to have found the source of Romanian inspiration only after encountering certain primitive and archaic artistic creations—a fact which seemed paradoxical to several art historians." Brancusi's Birds are similar to stylized figures woven in Romanian rugs and his rhomboid patterns are reproductions of those carved in wooden pillars of the porches of his native village.
After moving to Montparnasse, No. 54, by the end of November 1907 he enters a new period. The next year he completes the first three direct carvings: The Kiss, Sleep and Wisdom of the Earth. In the same year he meets Modigliani and Fernand Leger at a party in honor of Henri Rousseau at Picasso's studio. In 1911 he completes the second Kiss called Montparnasse Kiss as a monument for Tatiana Rachewsky who, love sick, committed suicide months before. 1912 brings him the first major recognition in his native country. He wins first prize at the official salon in Bucharest. He rents a better studio in Paris at 47 rue de Montparnasse, and hangs out with Léger and Duchamp with whom he visits flea markets and the Salon de la Locomotion Aérienne. Looking at a propeller he exclaimed, "This is a sculpture and from now on an artwork must never be inferior to this." It is possible that this event inspired Brancusi to create Maiastra (1912), a bird sculpture, one of the many birds in flight invented by the Creator (named thus by Ilarie Voronca a Romanian-French poet, in his book "L'Interview," Marseille, 1944).
From 1916 he occupied a studio at No. 8 and from 1928 at no. 11 in the Impasse Ronsin in the 15th arrondissement. It was in these studios that he would produce most of his works.
Brancusi became a French citizen only in 1952 after almost half a century of living in Paris. In 1956 the artist arranged to leave the whole of his studio and its contents (finished works, sketches, furniture, tools, books and records) to the French State, on the condition that the Musee national d'art moderne should reconstruct it as it stood on the day of his death. His studio was preserved and moved several times, most recently close to the Centre Pompidou. Inside replicas and originals intermingle; pedestals—which also played an important role is the overall presentation of his sculptures— as well as the studio's atmosphere and vintage tools were preserved. He died on March 16, 1957 at the age of 81, leaving behind some 1200 photographs and 215 sculptures, a relatively modest output, but one whose aesthetic and cultural value is incalculable.
It can be difficult to assess where Brancusi's sculptures begin and end, taking into consideration that several pedestals of different materials (wood, limestone, marble and metal) can exist in a single work, mounted one on top of another. Sometimes he used another sculpture for a pedestal. Brancusi is the first sculptor to consider "the base" as an integral part of his artwork.
The exhibition The Essence of Things was conceived by Carmen Giménez, Curator of Twentieth-Century Art at the Solomon R. Guggenheim Museum and Director of the Museum Picasso in Malaga, and developed with Matthew Gale, Curator at Tate Modern. The Guggenheim has championed Brancusi for 50 years and has in its permanent collection eleven important works.
His works are healing images of idealized nature, columns of prisms, sorties in wood, inspired by the screws and blackened beams of country wine presses and well-heads, notches in wood and stone mirroring the portals of South Romanian country houses, and ultimately ovoid forms lying on their side like an egg or a face sleeping or dreaming. They evoke either nostalgia or grief. "It was the dialectic of simplicity/difficulty," said Jon Wood in his essay "When we are no longer children" in the catalogue of the show, "as much as that of innocence/experience in relation to the 'childlike' that interested Brancusi as a dynamic within his work." Brancusi said, "simplicity isn't a goal in art, but one arrives at it despite oneself in approaching the real meaning of things." One of his statements selected for the catalogue is "In order to make free and universal art one must be a God to create it, a King to control it and a slave to make it."
By concentrating on pure form, Brancusi freed sculpture from its 19th Century pictorialism and prepared the way for the 20th Century abstract sculptors. As influential today as during the artist's lifetime, Brancusi's sculpture and his ideas about art continue to challenge and inspire contemporary artists. Among many others, his work inspired artists including Isamu Noguchi (one of his assistants), Constantin Antonovici, Milita Petrascu, Barbara Hepworth, Louise Bourgeois and Donald Judd.